*This is a sponsored post on behalf of Wayfair.com, however as always, all opinions of these fabulous products are my very own! To read my full disclosure policy, click here.*
Summer is just around the corner and my hubby and I have slowly been getting our back patio and yard all ready. Though we have a veeeeeeery small backyard, we love to entertain friends and eat dinner outside almost every night in the summer.
When we moved into our house about 5 years ago, our backyard was literally a big concrete slab for our "patio," and a whole lot of dirt and weeds. I wish I had a picture to share, but it was bad. A couple of years ago (before Jade, mind you!) we decided to DIY landscape. It was a huge job and took us all summer, but we got so much more use out of it.
David didn't want to put any grass in the back since it literally would have been like a 8′ x 8′ square of lawn. So, we opted for more of a natural landscape. We put in a beautiful pond in one corner, which is the perfect sound while we relax outside on those hot summer nights.
We also added a raised garden bed, a fire pit, and lots of pea gravel. Since our backyard gets a lot of sun and stays really warm, we opted to put a gazebo up on the concrete patio to bring us some shade.
(It had just rained, don't mind all the wet spots on the patio and the gazebo cover all messed up!)
However…
First of all, what were we thinking? Seriously, who puts in a huge rock pond and gravels their entire backyard when they want to have children? We do, apparently! Totally not kid friendly whatsoever. Second, outdoor maintenance is hard work. And expensive! Our patio table and chairs are terribly dirty and falling apart, our gazebo cover is ripped and totally faded, and our fire pit is rusted over. The huge rocks we left around the fire pit for seating are so unsafe for Jade. We have ugly plastic chairs hanging out against the fence for extra seating around the fire pit, too.
Right now, our backyard is just kind of sad (except for my raised garden which is finally sprouting! Yay!).
SO, instead of having a pity party at how pathetic our yard's current state is, let's do a little "window shopping" and "ooh" and "ahh" over a bunch of pretty patio products from Wayfair.com instead! Here's to "patio dreams" and putting together what I'd love my patio to actually look like!
(Just click on the pictures below for more product info!) 
First off, since we are always eating and relaxing outside, we need a really nice dining set and chairs. We have an ugly glass table right now and chairs that are so wide they don't even fit in under the table. So, how about gorgeous 7 piece dining set instead?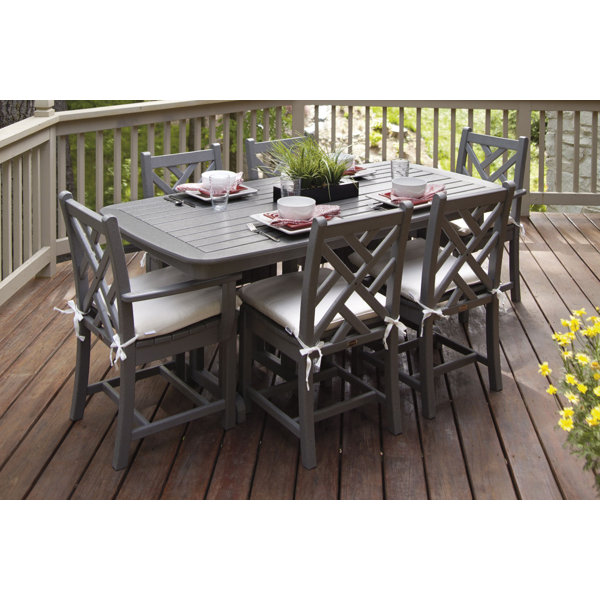 Isn't she pretty?! This would look amazing on our patio. And, it looks so comfy! I love the chair design, too.
Next we'll need something to hide our terrible red concrete patio that grows weeds out of the center cracks. How about a simple striped outdoor area rug?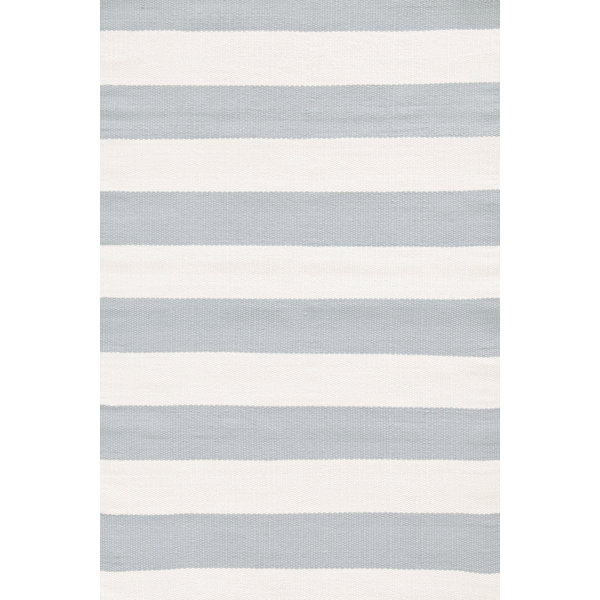 I love the subdued colors and the chunky stripes of this pretty rug, and it'd match the above dining set perfectly!
And since we sometimes have extra people over that won't fit around the table, it's nice to have some more seating. I've always loved garden stools, but never actually bought any. They are so functional and can also double as a little side table/drink holder if necessary, too! They're also small and don't take up much space, which is the perfect solution to our small patio and yard.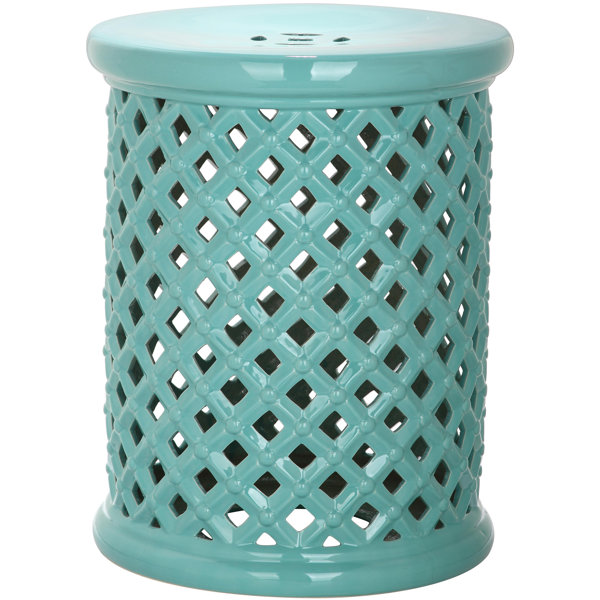 I'm loving this gorgeous turquoise color and pretty design. A couple of these sitting around next to the house would be perfect!
Patio seating is taken care of, but what are we going to eat? We barbecue a lot in the summer, and our current barbecue is old and small. I'm totally loving this Weber Spirit gas grill!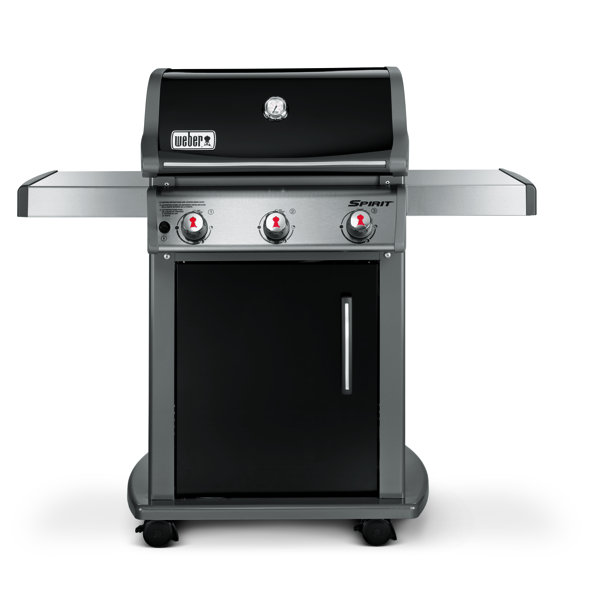 Ok, so maybe I don't actually do the barbecuing, but I know David would love to have a grill like this! 😉
Since our backyard gets virtually no shade, we've had a gazebo the past few years. But like I mentioned, it's faded and ripped and just isn't pretty anymore. I SO wish we had a gorgeous pergola instead!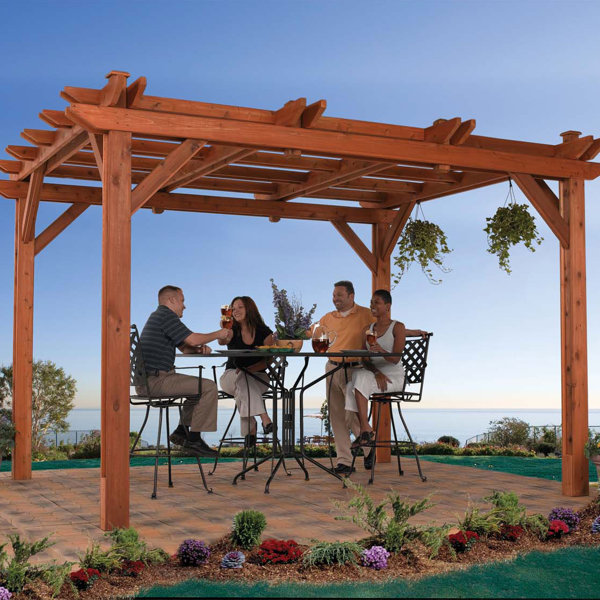 I love the look of this Montego Bay Pergola, it would fit just perfectly on our patio! I like that it provides ample shade, yet still lets a little light through.
One thing we lack in our backyard is lighting. While we have our fire pit, it only really lights up that little area. Our one outdoor light is too harsh and not very "mood" setting for when we entertain. So, my "dream" is to have cute little string lights all strung throughout our pergola so we could easily entertain into the evening!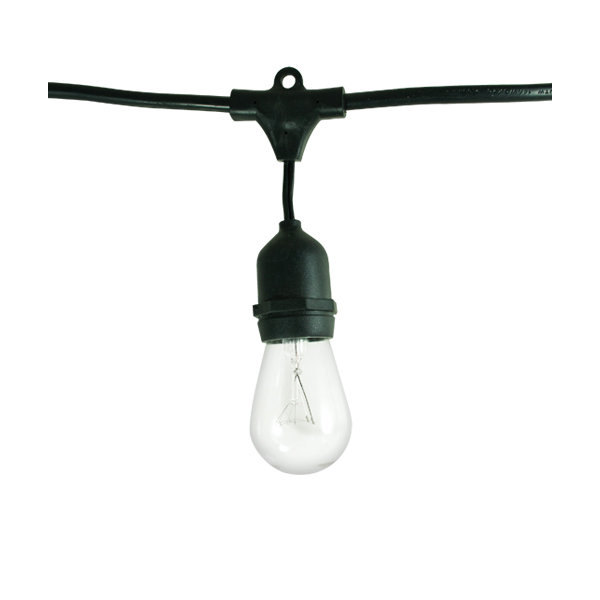 These Bulbrite Industries outdoor string light set would be totally perfect, and set the best mood lighting!
While our summer days are hot, our evenings can get a little cool. To help, a nice new fire pit will have us entertaining into the late night, while we roast marshmallows and make s'mores!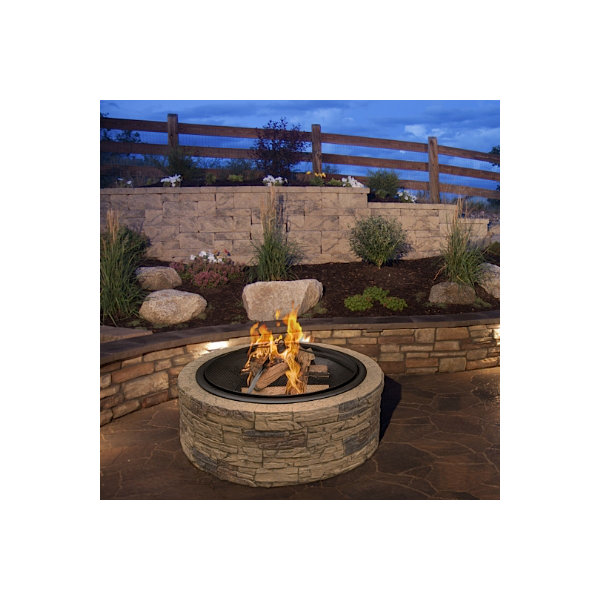 I love the cast stone of this fire pit, and it'd look perfect in our natural outdoor landscape! Ok, now I really want a s'more.
And while we're dreaming a little, someday I'd love to have enough patio space to have a hot tub. But sometimes they can be a hassle getting them installed and maintaining/cleaning them. However, I found a couple of "plug and play" spas, where you fill them up, plug them in,  and that's it! Um, yes please!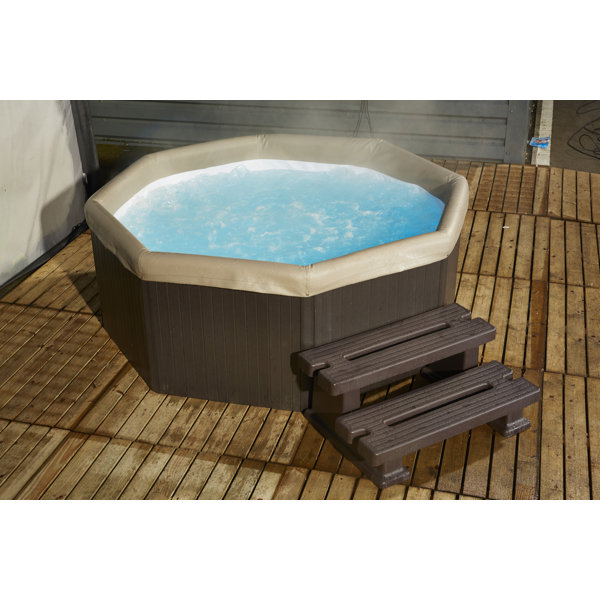 Oh man, this tub would be so amazing! I will be making sure our next house has plenty of space for one of these bad boys. 😉
What's on your "dream patio" list? A new dining set? New planters? Or a hot tub? I'd love to hear!
To see more of my fun patio choices, head on over to Wayfair to see my Patio Dream Idea Board!
(I link up at these fun parties!)