Hello, hello! I'm SO excited to finally be sharing with you my Christmas Home Tour! Hosted by the lovely Kendra from Joy in our Home, 18 other bloggers and I have come together to each bring you a special peak inside our homes during this holiday season, and I gotta say, it's been SO fun seeing all these lovely ladies' Christmas decor!!
On a personal note, this year I have some special and meaningful touches throughout my decor. Sadly, my sweet grandma passed away this last weekend. It's been a rough few days, but with such a great and close family, we're all banding together and getting through it. She will be so incredibly missed; but I know she's in such a better place. So, I've added several things in Christmas decor that my grandma had either made, or given me.  Though some of it may not match my Christmas decor "style," it's my way of remembering and honoring her this holiday season.
This year I went rustic glam for my decor. You'll see lots of sparkle throughout my house. Now…onto the tour!
I'm thrilled to be welcoming you into my home! If you walk up our stairs and knock, you will probably be greeted with…
…ME! Ya'll must be pretty special for me to get out of sweatpants on the weekend and put makeup on. 😉
You'll see my Rustic Glam Christmas Wreath I made last week on our front door. I love that green glittery ribbon!
We didn't do much decorating this year on the outside of our house. Ok… we didn't do any decorating on the outside of our house. But, I DID decorate this cute little mini tree from the Target Dollar Spot! I added some lights, a felt garland, and perched it on a little stump next to my front door. Festive, right?
After we say our greetings and you come in, you'll see our entryway table all decked out.
I've added some greenery and some LED lights, as well as some glittery and shiny silver ornament balls to a vase.
My friend Remington got all dressed up for the occasion! He put on his green glitter bow, and his antlers got a fresh coat of metallic silver paint. He's standing quite proud.
Directly above the table you'll see my Bible Verse Advent Calendar I made, as well as my Rustic Pinecone and Wood Christmas Garlands.
This is my favorite Christmas song, and I love it framed on the table. I mod podged glitter all over the white frame for extra sparkle. You can't forget the pair of turtle doves, too!
As you continue into my living room, you'll see all the rest of our Christmas decor. Our house isn't very big and our living/dining room and kitchen are all attached in one great room.
We spend about 95% of our time right here in this area. I mean, that couch is sooooo comfy and cozy!
Our Christmas tree is super simple this year. I hardly put many ornaments on, mainly because it already has so much character with pinecones and cranberries throughout. And sadly, no, this is not a real tree. But Jade just loves all the lights and we're working really hard on listening to mommy when she says, "don't touch."
My Grandpa is a woodworker, and my Grandma just loved to craft and paint, so they made us ornaments every year since we were born. In fact, that little teddy bear one was made for me in 1985! These are so special and hold so many memories. I'm so happy I get to share these with Jade.
David just loves playing the piano, and lately he's been dusting off all those Christmas songs. Jade and I love to listen! The large snowflakes are courtesy of the Dollar Tree, and I just hung them from twine with clothespins! Aaaaand, of course, they're all sparkly. 🙂
I made these cute trees a couple years ago, but gave them a few updates with some twine and…
yes, more sparkle. And feathers!
I just LOVE this printable my sister made me! She has an Etsy store called Printables of Love. She has such cute Christmas prints, too!
My little wall shelf  behind the couch got dressed with a little Christmas vignette; a printable and more handmade trees!
Once you've checked out the tree in full detail and get yourself cozy on the couch, you'll see our fireplace area. I went more rustic this year in my fireplace decor. It just makes me happy! I have a pile of wood and sticks still from my neighbors tree, so I spray painted a few of the branches and put them in my vases. We don't use our fireplace, so I made a little lighted pallet star, which I will have a tutorial for coming later this week! Stay tuned…
This year I just bought plain burlap stockings. I was going to decorate them more with lace or fabric, but I really like them plain! I added pinecones relative to our size. Very "Goldilocks and the Three Bears," if you ask me. 😉
I made letters by just cutting them out of cardboard and adding some green tulle fabric.
My Grandma gave me this pretty wired angel a few years ago. It was gold, but chipping badly, so it got a coat of metallic spray paint. My Grandpa also made the wooden bowl the silver ornaments are sitting on. I just love his woodwork projects!
This is where we'd be chatting and drinking a steaming cup of hot cocoa. With marshmallows. And Peppermint Schanpps. We do it up right around here!
We might be getting a little hungry so we'll take our spiked hot cocoa to the dining room; which is 4 steps away.
I found this shiny wrapping paper with silver polka dots that I knew was the perfect addition to my centerpiece. I made these glittery wine bottle candle holders last year, and they look so pretty lit up in the evenings with the Christmas tree lights on!
Ahhhhh, glitter.
While we're finishing up our hot cocoa, I'll tell you about a few more mini vignettes in the kitchen…
My Grandpa made the little wooden reindeer awhile back, and it's just too cute. The little teddy bear was my Grandma's. She had such a thing for teddy bears. She literally had around 100 or more all over her house. Jade got so excited when I put it out! I also have my super simple Honeycomb Christmas Trees on display.
Well, sad to say but our hot cocoa is all gone and it's getting late. I'm SO glad you stopped by for a tour and visit, I had so much fun!
You are also invited to visit and tour 18 other blogger's beautiful homes!! Take a peak at them below; you will be blown away at these ladies' creativity and talent in decorating!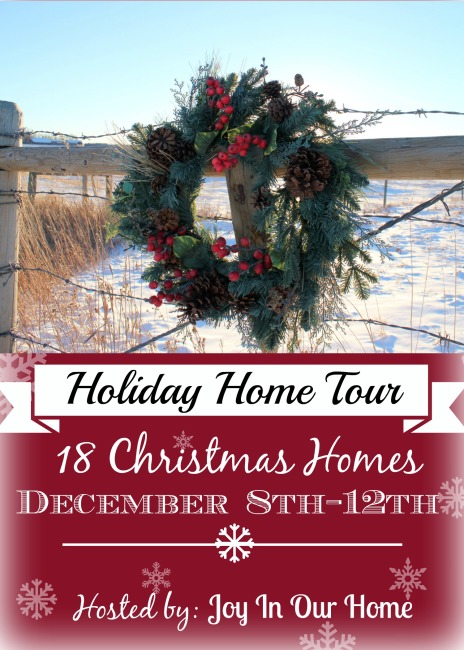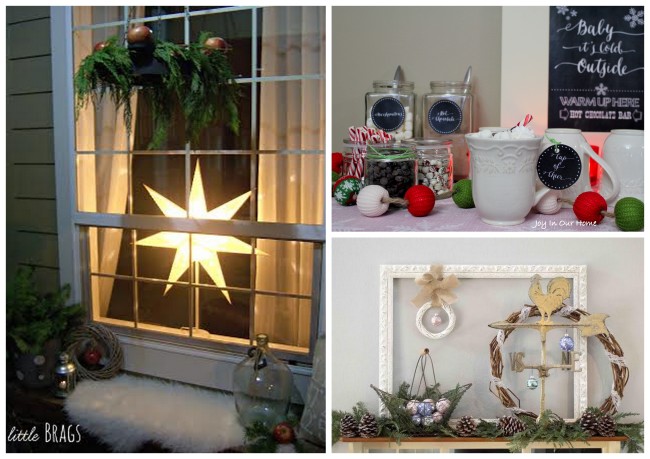 – Monday –
 1. Little Brags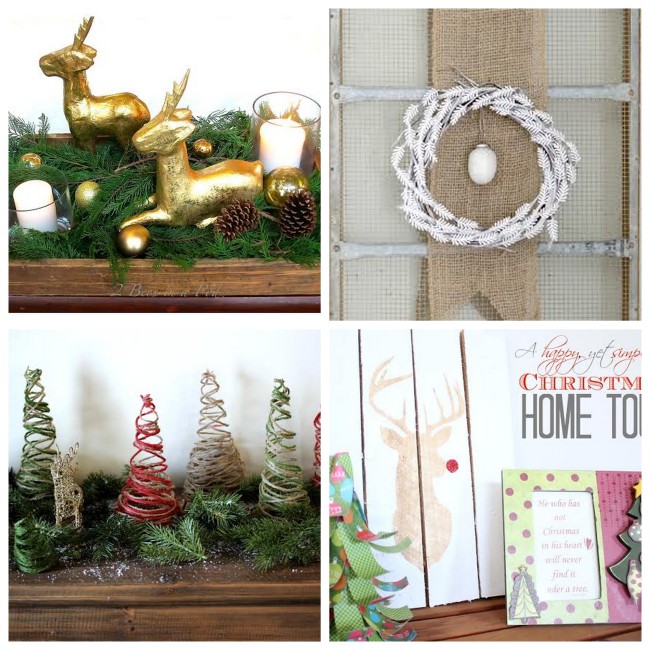 – Tuesday –
4. Shambray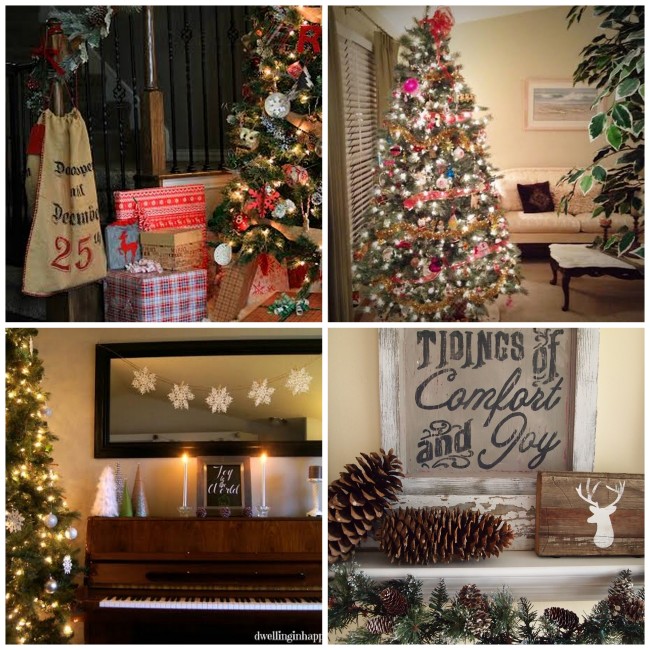 – Wednesday –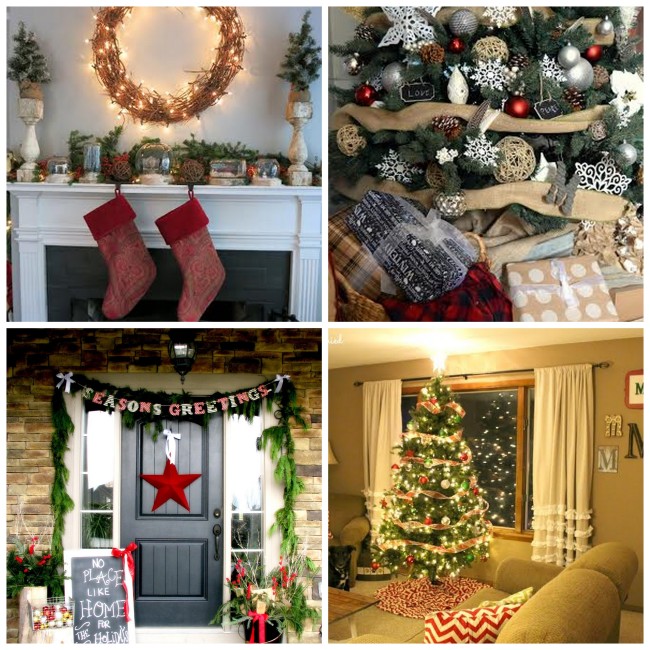 – Thursday –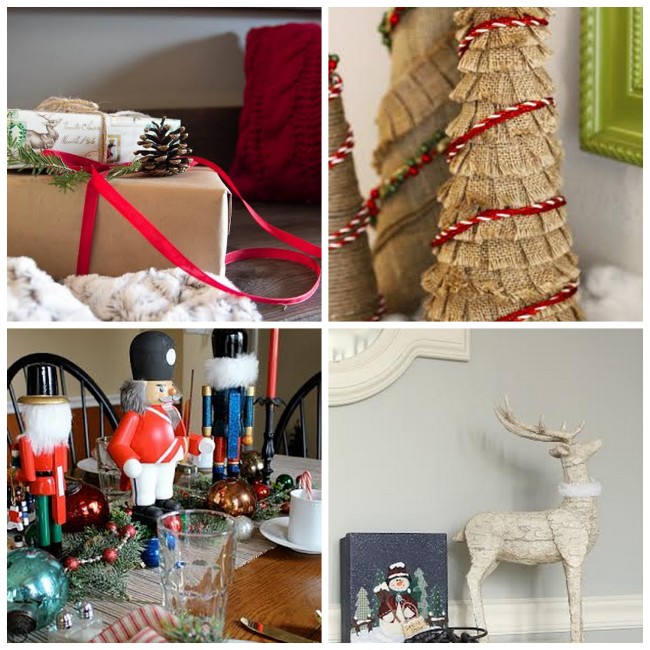 – Friday –
3. Meet the Bs
Thank you again SO MUCH for stopping by and taking the time to tour my home. I hope it left you with some inspiration and Christmas cheer! Have a lovely rest of the week!
I link up at these fun parties!