This cheap and easy DIY twine orb chandelier is the perfect way to turn an old thrift store chandelier into something amazing for under $20!
*This post contains affiliate links. To read my full disclosure policy, click here*
It's the second Wednesday of the month, which means it's time for the #monthlyDIYchallenge! For October, our item was rope, any form and size. I chose a twine/a thin sisal rope for my project. I'm in love with how it turned out!
It wasn't hard to decide on what to make. We've been desperately needing a new chandelier in our living room to replace our lighted ceiling fan. It's one of the last amber-colored lights left that needed to be updated in our home. I really wanted to take a stab at making my own lighting, so when my hubby agreed to help, I went straight to the Habitat for Humanity Restore in our town. I found the perfect old chandelier light, and when I took it to the counter to pay for it, I found out it was half off! $5 for the win.
I had seen a bunch of beautiful orb chandeliers online, but all were expensive and definitely more than I wanted to pay. Making our own was the best  and cheapest solution! The twine was about $6 on Amazon, the embroidery hoops I found at a thrift store for $1.50 each, and the spray paint was about $4. I already had the glue gun and drill bit, so this whole chandelier cost me under $20 to make!
If you'd like to make your own twine-wrapped orb chandelier, you'll need a few supplies:
Two 12 in Embroidery Hoops (giving you 4 hoops total when all separated)
Old chandelier to take apart
Hot glue gun & glue sticks
Black spray paint
Drill & drill bit (according to the size of your wiring)
We started by taking apart the old chandelier. We took out the candelabra part with all the wiring and chain to keep, and then got rid of the glass.
Using our embroidery hoops, we took off the metal part that tightens the hoops together. After doing so, we removed the inner hoops as well, now giving ourselves 4 hoops total. The two outer hoops were now open, and the two inner hoops were not.
Using our drill and drill bit that would be big enough to fit the top bolt of the lighting, we overlapped the ends of two of the hoops (the two "outer" hoops of each pair since they would be just a tad bigger than the inside ones) and drilled a hole through. We taped them together to make it easier to drill (as shown above).
After all holes were drilled, we made sure the wires all fit through for hanging.
Then we overlapped both of the outer embroidery hoops and made sure everything fit together nice and snug with the bolts. The two outer hoops will criss-cross to create the starting of an "orb."
We then took everything back apart, and I spray painted all of the lighting pieces with a satin black spray paint to give it a nice, new finish.
While the paint dried, I set to the task of wrapping the embroidery hoops with the twine. This part was time consuming, and I ended up taking two evenings to finish it. To wrap, I just used some hot glue to glue the end of the twine to the hoop, and then I just started wrapping it around! I'd occasionally put a little hot glue on the wood as I went to make sure it stayed snug and in place.
For the two outer hoops that we drilled holes into, I left the ends where the holes were open so we were still able to overlap them when it was time to put the lighting all together.
We fed all the wires through the holes of both outer hoops, tightened all bolts in place, and made sure the hoops were criss-crossed.  
On the bottom where the hoops intersect, I used just a little bit of hot glue to secure them together. I then took some extra twine and after gluing down the end, I wrapped it around the intersection a few times to form an "X." I then hot glued the end down discretely under part of the "X" so it wasn't too visible.
Now, we've been working with the outer two embroidery hoops this whole time. For the other two slightly smaller hoops, they will go inside the orb and be horizontal, parallel to each other. Since they are a tad smaller (because they were originally the "inside" of the embroidery hoops), they should fit in just fine and be snug. Once I got them both inside and somewhat even, I hot glued them to the inside of the outer orb hoops. Then I did the same as I did with the bottom of the orb and wrapped twine around each intersection to create that "X."
This took a little while since I had to do this 8 times. It was tricky to keep the inner hoop straight, which is why I tried to hot glue them in quickly first before wrapping the twine.
The top was a bit tricky, but I just used the same method again and after gluing down the end of the twine, I wrapped it around the top to hide the wooden overlapped part and still keep that "X." It doesn't matter too much if it isn't beautiful on the top since no one will really be seeing this as it'll be high up close to the ceiling.
If you haven't hung your own lighting before, be safe and have a licensed electrician install it. My hubby has done it several times before so we were confident to do it ourselves. We put in new LED candelabra lightbulbs, and we were set!
It really is SO much better than our previous amber-lighted fan that was in our living room.
It's definitely unique from other orbs I've seen, as most only have one horizontal ring, but we wanted to make ours a little different. I'm so glad we did!
My favorite part of the light is how much my son loves it. Every time we walk downstairs and through the living room he points to it and shouts, "ball!!" It makes me smile!
I was slightly intimidated to make my own lighting at first, but after we got all the supplies and started working, it turned out to be quite easy and so much fun!
If you'd like to see some more fun projects my bloggy friends made using all types of rope, click on the photos below!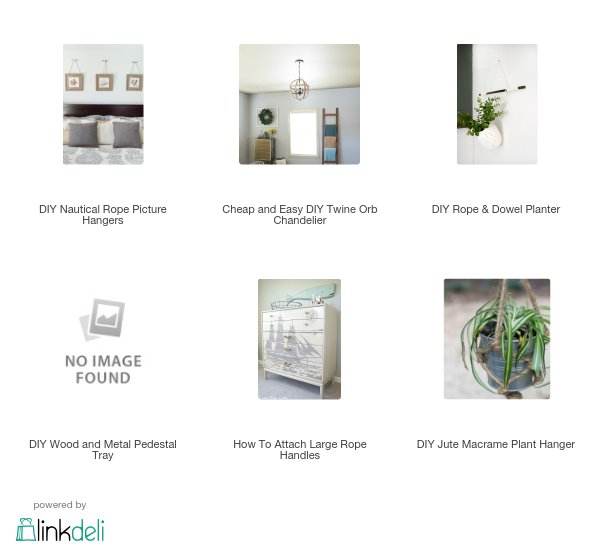 Hope you all have a great rest of the week!