This quick and easy farmhouse winter wreath is the perfect way to dress up your door this holiday season!
Hi, friends! Somehow this month is already half over. How did that happen? Is Christmas really only 2 weeks away?!
Our December #monthlyDIYchallenge is here, and we used metal label holders in all our projects for this month. There are some amazing creative ideas from my bloggy friends at the end of this post, so don't forget to check them out!
For my project this month, I made a winter wreath. My front door was looking bare, and I wanted something I would be able to keep up all winter and not just for Christmas.
Enter: the label holder!
I can change out the label and use it for Christmas as well as through the rest of the winter season. I like versatility!
To make your own, you'll need:
14″ wreath form
Plaid ribbon or fabric
Metal label holder (I got mine at Hobby Lobby)
Floral wire
Thin ribbon or twine
Hot glue gun
Dried eucalyptus bunch
2 decorative pine picks
Ribbon for hanging
I was looking for a thick white and black checkered/plaid ribbon, but couldn't find any. So, I found this cozy plaid at Joann's, and cute it into strips. It worked great! I started by gluing down the end of one strip onto the wreath form.
I just kept rolling the strips around and gluing the end down, then gluing a new strip on top and rolling until all the wreath form was covered.
I trimmed the ends of the eucalyptus stems, and layered them how I wanted them to look on the wreath.
Using my floral wire, I wrapped them together in the middle onto the wreath a few times to keep them in place. Before securing the wire completely, I also stuck in the picks on either end of the eucalyptus under the wire.
I used thick silver ribbon to cover the stems and wire. I glued it in the back of the wreath and wrapped it around  a couple times.
As for the metal label holder, I used thin silver ribbon to attach it to the wreath. I threaded it through the holes, wrapped it around a few times and tied it in the back. The label holder is thin, so I was able to bend it slightly to fit around the wreath form better.
I cut a thick piece of card stock to fit and wrote "Merry Christmas" on it. I'll be able to change this as soon as Christmas is over!
I love that it's neutral and can be used until spring. I could just take out the picks and change the label!
Friends, while this Monthly DIY Challenge has been so much fun, it's time it came to an end. Although I've only participated in a few of them, the rest of the challenge bloggers and I have decided it was time to stop, as everyone is focused on other things at this time as our blogs go in different directions. Thank you so much for all your support in this fun challenge, and cheering us all on each month! Here's to new exciting things in the future! 
If you need any ideas on how to use label holders in your own crafty ideas, check out my bloggy friend's projects below to help inspire!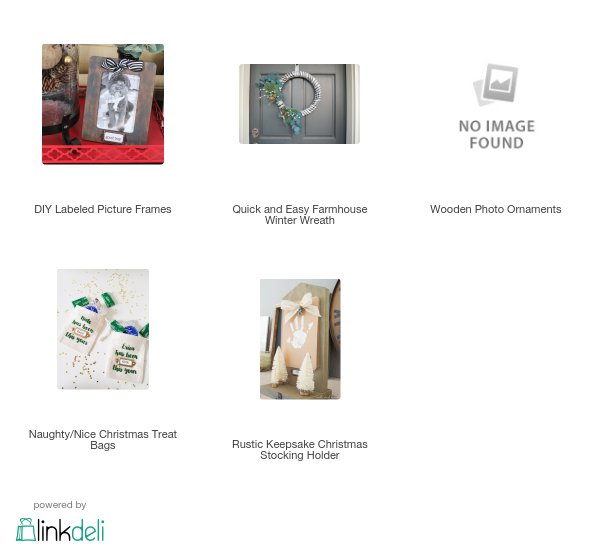 Hope you all have a wonderful rest of the week!