***This post was sponsored by Kreg Tool Company, but all opinions of this amazing product are completely my own! You can check out my disclosures page HERE***
I'm sharing how to make easy corbel sconce lights for your bedroom today, and you won't believe how simple and quick they are to make!
Happy Wednesday, friends! It's time for another #MonthlyDIYChallenge! This month we are so thrilled to be teaming up with the Kreg Tool Company to bring you some fabulous woodworking projects. We each were sent a  Kreg Jig to use for our projects, and you guys, this one little tool will make your life so. much. easier.
I'll be honest; when this came in the mail, I was slightly intimidated. I'm not a woodworker and I haven't built many things. But once I tried it out, it was so easy I was shocked! You literally put it on the wood where you want it, clamp it, and use your drill with the drill bit it came with and drill your holes. That's it!
The Kreg Jig R3 comes with everything you need (all shown in the above picture), including the kreg jig, drill bit, several screws, and more.
I wanted some kind of pendent/sconce light for either side of our bed, and I found these building plans and tutorial from Shanty 2 Chic. They were so easy to follow! The perfect rustic farmhouse touch I wanted in our bedroom.
Supplies (for two corbels):
*Affiliate links included for your convenience*
(Visit Shanty 2 Chic's post for the full supply and wood measurement list!)
After we cut our wood, we got to work on drilling the holes for the pendent light cord to hang through.
Then we got our pocket holes in by using our Kreg Jig R3! This was the funnest part out of the whole project. The Kreg Jig was so easy to use too, you just use your clamp to secure it down to the wood (we used this 3″ wood project clamp and it was incredibly helpful!). Then grab the drill bit that came in the Kreg Jig R3 kit, and set it to your desired measurement. Drill right into the jig's opening, and you've got yourself a pocket hole!
I mentioned above I am not woodworker by any means. But y'all, if I can use this successfully to build something, you can too!
Even my hubby got in on the building, and had to try it out too. He was in love! And of course, he really wanted to help make the corbels, too. 🙂
I'm ready to build something else now! I'm thinking a beautiful farmhouse table? Hmm..
But I digress.
Drilling the pocket hole screws in was even easier! The Kreg Jig R3 came with the drill bit needed to drill them right in. It's such an easy and clean way to attach your wood together without needing any wood glue.
We whipped up these corbel sconces in just 2 days (with drying time!)! Seriously, so easy to make with just a few pieces of wood, a few holes and pocket screws, stain, and pendent lights. Don't forget to find the plans to make these sconces here!
I love the contrast of the dark corbels and pendents with the white bed and nightstands! I still have a lot of work to do in our master bedroom, but it's getting there slowly.
There are so many products I want to try out now from Kreg tools, like the Accu-cut and the Rip-cut! We're getting a new saw soon and these would just be perfect for future wodworking projects.
If you're excited to try out a Kreg Jig, then you've got to check out the other 12 projects below that you can build with one!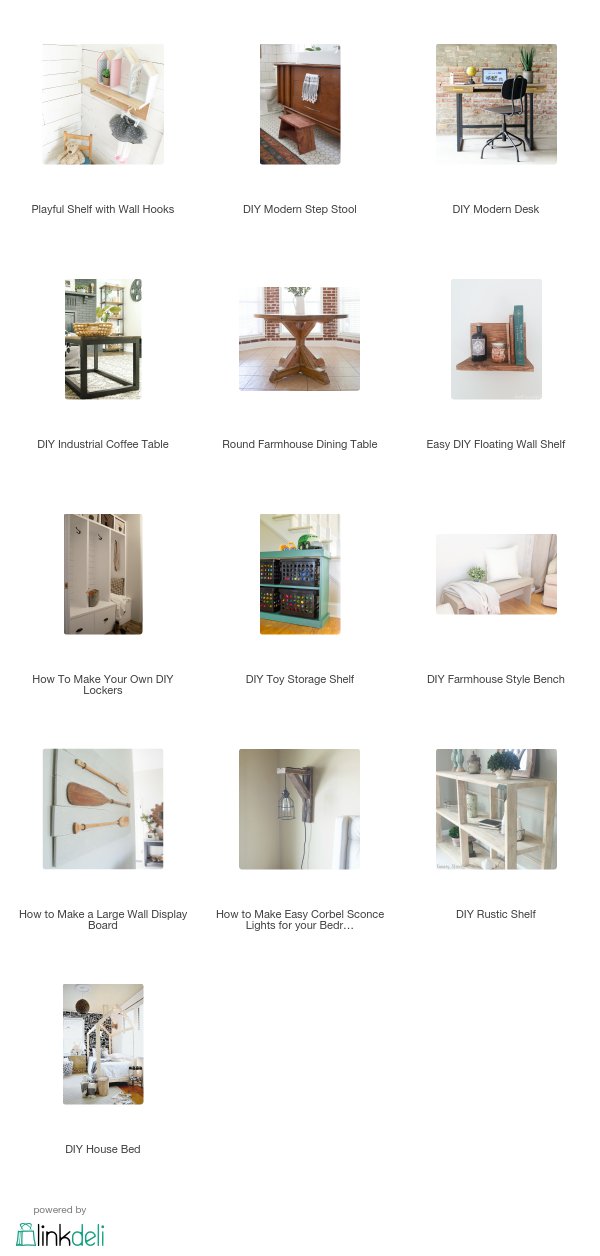 AND friends, that's not all. We also have a giveaway going with Kreg tools to win your very own R3! You can enter the rafflecopter below. Good luck!
Prize: 10 winners will receive an R3 kit
A huge thank you again to Kreg Tools for sponsoring this month's Monthly DIY Challenge!!